COMPETITION DETAILS
OCTOBER 1, 2019
TUESDAY, 11:00 AM (GMT+8)
PRESS PRESENTATION
Manila Ballroom,
Marriot Manila Hotel,
Pasay City, Metro Manila
Philippines
NATIONAL COSTUME COMPETITION
& CONTINENTAL QUEEN AWARDING
Philippine International Convention Center (PICC),
Vicente Sotto St.,
Pasay City, Metro Manila
Philippines
OCTOBER 5, 2019
SATURDAY, 7:00 PM (GMT+8)
SWIMSUIT & EVENING GOWN
COMPETITION
Philippine International Convention Center (PICC),
Vicente Sotto St.,
Pasay City, Metro Manila
Philippines
OCTOBER 9, 2019
WEDNESDAY, 6:00 PM (GMT+8)
GRAND CORONATION NIGHT
Newport Performing Arts Theater,
Resorts World Manila,
Pasay City, Metro Manila
Philippines
Joey is an international model turned TV host. Her hosting prowess has earned her a number of top local and international shows on TV and stage for the recent years. Joey is also an advocate of female empowerment, gender equality, and children and animal rights.
Sam is a radio jock and TV personality who is most known for being one of the three DJs of Boys Night Out at Magic 89.9. He also serves as a guest host for numerous variety and talk shows aired by the biggest television networks in the Philippines. To date, his social media channels on Twitter and Instagram are two highly-followed pop culture and entertainment hubs by a mix of young and older fans.
Alston Stephanus Accessories is a luxury brand of finely crafted jewelry that pushes the conceptual boundaries of design; nothing less than bold will do. Creative Director Alston Stephanus uses the highest quality materials to custom make each elegant accessory for his clients.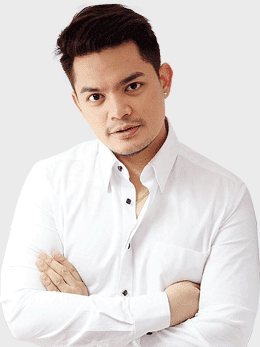 Manny is a professional fashion designer who comes from the family who established Halasan Metal Craft in Meycauayan, Bulacan. He is currently one of the top crown designers in the country. He was a part of Project Runway Philippines Season 3 and has been sharing his talents with various charities and fashion shows both locally and abroad.
NEWS & UPDATES
Miss Asia Pacific International 2018, Sharifa Akeel's story is something we are familiar with. We've seen it in soap...

It is with a heavy heart that we announce the dethronement of our Miss Asia Pacific International 2018 2nd...

We recently sat down with the reigning queen, Ms. Francielly Ouriques, to find out more about the gorgeous woman...

Under the banner of Miss Asia Pacific International is the advocacy to foster respect and appreciation of each other's...

A queen's must-have accessory is her crown, and for this year, the pageant sought the expertise of one of the top crown...
GALLERY